Natasha Capers, mother/activist responding to racist teacher actions against Black students.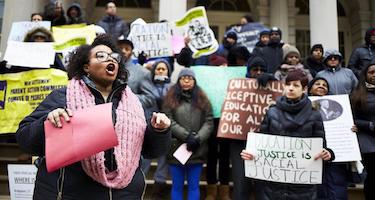 Imagine, as a Black mother, coming home to hear that your little girl was stepped on and told, "see how it feels to be a slave" by their white teacher. I'm the mother of two sons in NY public schools, and my heart broke when I learned a white teacher in the Bronx did just that to "teach" Black children about slavery and the Middle Passage. As proud Black people, that is NOT how our children should be taught our history. Black students deserve better.
It's been more than a month, and the city has still not taken action to ensure that this type of degrading and traumatic incident will not re-occur. Culturally Responsive Education is a research-based strategy that helps teachers build social and emotional connections with their students across racial and cultural differences, and root learning in students' culture and prior experiences. Mayor de Blasio, who claims to be a national progressive leader, has been slow and timid to embrace this approach. When asked by press about what the city is doing to make sure this type of incident never occurs again, Mayor de Blasio has said that the city already offers training on cultural competency. The truth is that those trainings are currently offered to just 450 out of 77,000 teachers - less than 1% of NYC teachers !1
For over a year, parents have been demanding that Mayor de Blasio implement a comprehensive program of Culturally Responsive Education, including comprehensive cultural competency trainings for teachers and school staff, in order to avoid this kind of traumatic incident. De Blasio's inaction means racial violence like this will keep happening. Within the month, another Bronx white principal came under fire for banning Black History month at her school. The responsibility for this incident rests firmly on the Mayor's shoulders.
Racism and bias in schools is a national crisis. Use your voice to make NYC public schools a safer, more affirming, more inclusive learning environment for Black children and other students of color. Research shows that white teachers have lower expectations for students of color, and are significantly less likely to expect Black students to finish high school and college.2 School staff frequently perceive Black boys as threatening and dangerous for the same behaviors that are seen as innocent for White students.3 In 2015, only 15% of children's books were written by African-American or Latino authors, or focused on African-American or Latino characters.4 Over 80% of public school teachers nationally are White women, though a majority of public school students are people of color.
I hope you join me in working for public schools where Black children learn that their ancestors were kings and queens, fighters against enslavement, strategists and spies, scientists and inventors, doctors, healers and entrepreneurs.
Until justice is real for Black children in our schools,
Natasha Capers, NYC Coalition for Educational Justice via OrganizeFor
---
References :

---